Imaja Bliss Paint 2

Innovative Live Performance
and Video Animation System
for Mac OS 9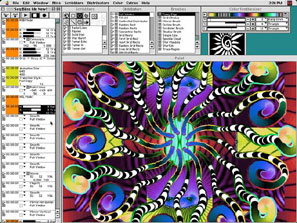 Bliss Paint is a powerful animation and video light show tool, waiting for you to take charge and express your creative ideas. It is based on a 2D algorithmic paint system with an innovative interactive color synthesizer that can be controlled with user input through the keyboard, MIDI and sound input. Animations can be projected with video projectors, recorded into QuickTime movies or video tape.
Download now: Bliss Paint Demo.

Bliss Paint was awarded 4.5 mice in a review in MacWorld magazine (July 1999 issue), as a "unique tool for color animation".

News: The latest release includes new keyboard commands to select color synthesizers and masks and other objects. Timing information has been added to text import and export functions.



Bliss Paint, Bliss Saver, Waves of Bliss, Geometric Bliss, Bliss Gallery and Space Garden Meditations are trademarks of Imaja. All other trademarks belong to their respective owners.