Imaja Bliss Paint 2

Innovative Live Performance
and Video Animation System
for Mac OS 9
Bliss Paint 2 Screen Shot
Click here for the Detailed Description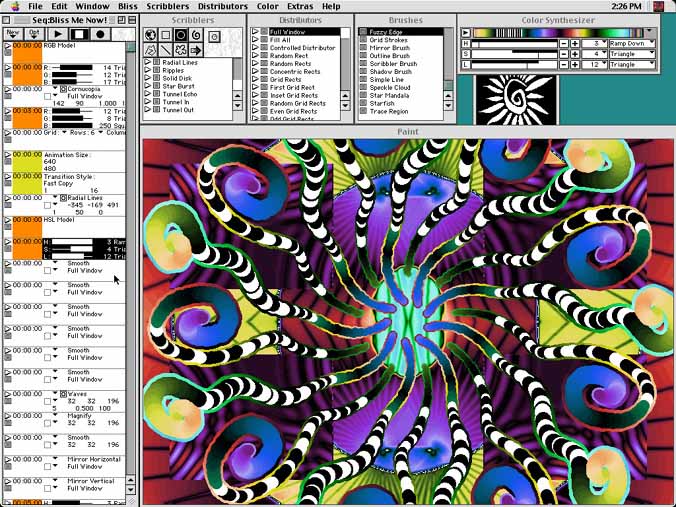 Description

This main screen of Bliss Paint shows:

Sequence window. This is where you create the sequence of painting events. Scribblers/distributor events and color synthesizer events can be drag-and-dropped into this window. Timing between events and other details can all be edited in this window. The buttons at the top of the window let you create new events, stop, play, pause, and record events.
Scribblers window. This displays the library of painting modules called Scribblers. The buttons at the top let you select subsets of rectangular, circular, spiral and other types of Scribblers. Next to each Scribbler name is a play button (useful for experimenting with scribblers and for live performance) and a drag-and-drop handle.
Distributors window. This displays the library of spatial placement modules called Distributors. A Distributor tells the currently selected Scribbler where to paint. Next to each Distributor name is a play button and a drag-and-drop handle.
Brushes window. This is the library of algorithmic brushes. The current image has an example of the Starfish brush in the foreground.
Color Synthesizer. This displays the waveform, frequency, oscillator range and color model settings of the color synthesizer.
Preview window. (partly hidden) This lets you quickly preview the effects of a chosen Scribbler or Distributor.
Paint window. This window is the canvas for your Bliss painting. A single keystroke can make this window fill the screen and perform your animation.
Windows not shown are: Brushes, Masks, Synth Settings Library, Color Synths, and Controls.

Bliss Paint's windows are tiled in a basic setup above. You can position all windows and their positions are remembered by Bliss Paint between sessions. There is a command to clean up the windows to this state. Bliss Paint also recognizes a two-monitor computer configuration and automatically puts the control windows on the main monitor and the animation on the second monitor, ideal for video projection or production studio recording.