Glenn McKay:
Altered States:
1966-1999
DVD Video
Glenn McKay's light art will mesmerize you with brilliant colors and music from four decades on this new DVD video release.
In four movements, the Altered States video starts with vintage rock from Jefferson Airplane, set to McKay's early 60's pulsating sensory overload style. The 70's evolve into a tweaky sound track by Knox Bronson, electronic culture mastermind, with scenes from McKay's world travels in a highly abstracted form. The 80's movement travels into pure geometric and color abstractions, with an uplifting electronic/acoustic soundtrack by Dean Evenson. McKay's 90's movement goes deep into fantastic liquid color landscapes with a dark, electronic music voyage crafted in collaboration with McKay by Greg Jalbert.
This video captures McKay's main installation piece at a retrospective of four decades of his work at the San Francisco Museum of Modern Art, February-May 1999.
This work was originally released on VHS Video format.
Jefferson Airplane
Plastic Fantastic Lover - RCA BMI 3:47
Volunteers - RCA BMI 2:40
Knox Bronson
3 Seconds Before Maia Smiled
UBI MEL IBI APES 11:38
Dean Evenson
From the album Acension 20:14
Greg Jalbert
Cascades 24:00
Visuals
Glenn McKay
Production Manager
Dennis Keefe
Video Taping,
Editing and Graphics
George Rosenfeld
Additional Videography
Dennis Keefe
Additional 60's Film Footage
Jerry Slick
Scott Bartlett
Special Thanks
Robert R. Riley, Curator of Media, S.F. MOMA
DVD Video
Total Running Time: 1:05 min.
Copyright © 1999-2005 Glenn McKay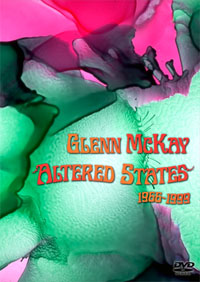 Order Now: $39.95

Order online now!

Altered States: Glenn McKay (DVD Video): $39.95 + US shipping $4
Altered States: Glenn McKay (DVD Video): $39.95 + international shipping $11

To pay with a check or money order, mail your order to Imaja, 1244 Hearst Ave. #7, Berkeley, CA 94702 USA.

To order by mail, click here for the Imaja Media Order Form.

Imaja
1244 Hearst Ave. #7
Berkeley, CA 94702 USA