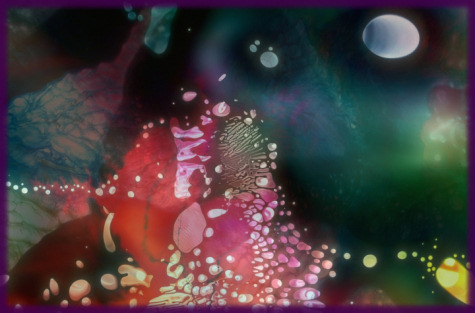 V i d e o
Glenn McKay
Visual Imagery Director, Producer
Dennis Keefe
Videographer Production Facilities
M u s i c
Hans Christian: Shades of Blue and Rapture
from the album Surrender
Aryeh Frankfurter: Farewell to Music and
Blue Mary from the album
Lest the Harpstrings Unravel
Brian Wallace: Original Sarod Score
VHS Stereo
Total Running Time: 32 min.
Copyright ©1998 Glenn McKay
Glenn McKay's light art is captured in brilliant colors and with luxurious music here on this premiere video release.

McKay's experience in the 1960's psychedelic rock light shows has carried him far into the realm of projected light painting. Short visual poems evoke deep space and the calm of listening to one's inner voice, while music of Celtic harp, North Indian sarod, and contemporary cello and synthesizers gently sound. This video captures his recent work on the verge of his upcoming installation at the San Francisco Museum of Modern Art Feb 4, 1999: hand painted slides dissolve mysteriously into one another, with subtle motions of light projected through transparent liquid oils.

"Seems to amplify the magic that lies behind the very nature of creativity."
- New York Magazine

"The colors seem to take on a life of their own."
- San Francisco Chronicle

"Visual music of the earth giving birth to itself."
- Jack Kornfield: author of A Path with Heart

Order online now!
No Strings Attached (VHS Video): $39.95
Shipping: $9.50
To pay with a check or money order, mail your order to Imaja, 1244 Hearst Ave. #7, Berkeley, CA 94702 USA.

To order by mail, click here for the Imaja Media Order Form.