Artwork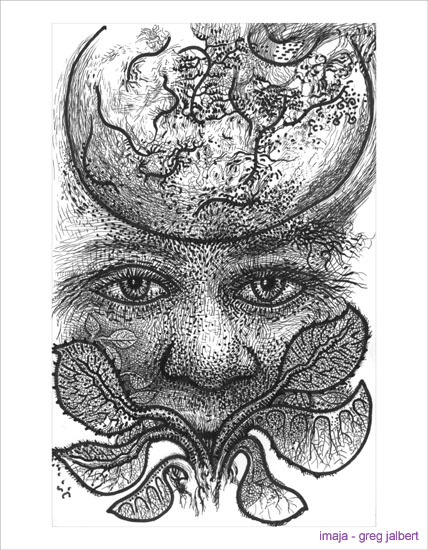 Earth Face Plant
digital inkjet print
7 x 9 in.

Drawings and Paintings -
imaja - greg jalbert
New drawings and paintings on exhibit, over 100 works from the California studio – watercolors, acrylics, drawings, digital art...
Browse the gallery
Mobile gallery
a new DVD of landscape photography and music by imaja - greg jalbert.
Greg Jalbert, artist and musician, presents this collection of photographs of nature and urban scenes from a train trip in November, a cross-country roundtrip. The music soundtrack is a mix of a variety of music compositions and improvisations, both newly created and taken from a wide range of time in the Imaja archives, and includes guitar improvisations in raga-style, electronic synthesizer textural works, and jazz improvisations.
[ More details... ]
Over 200 paintings, drawings, digital paintings and photographs in a mesmerizing slide show with an ambient electronic music soundscape.
$39.95
More info...

Computer animation tools and collections from Imaja...
These Mac OS 9 software tools for abstract animation will dazzle you with color, pattern and motion...
---
---