Imaja Bliss Paint 2

Innovative Live Performance
and Video Animation System
for Mac OS 9
Bliss Paint Basics: The Catalog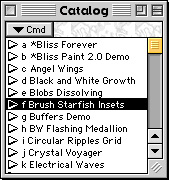 The Catalog window lets you build a high-level set of sequence files that can be instantly loaded and animated. Catalog animations can be triggered using the keyboard, mouse or MIDI. The Catalog window makes it easy to record a series of animations to video tape. The Bliss Paint Catalog is a great tool for live performance cueing of animations.

Bliss Paint supports QuickTime output for use with other multimedia applications. Pictures may by saved as PICT files for slide shows and touch-up in other applications.
Image Input and Manipulation
Scanned images and other artwork may be loaded for color animations and combination with Bliss Paint's Scribblers, Distributors, and image processing effects. Complete online documentation and Balloon Help included.