Imaja Bliss Paint 2

Innovative Live Performance
and Video Animation System
for Mac OS 9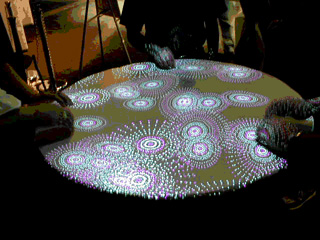 The Jam-O-Drum project is an experimental video/music instrument with MIDI drum pads developed at Interval Research in Palo Alto under the direction of Bean (Tina Blaine, musician/sound designer), with Greg Jalbert (author of Bliss Paint/programmer/artist), Tim Perkis (programmer/musician) and Kris Force (sound designer, musician), and others. Bliss Paint animation software from Imaja is used to create interactive animations that Jam-O-Drum players could trigger from the 6 to 12 drum pads embedded in the table.
Blaine's work has been exhibited at SIGGRAPH's Emerging Technologies in 2000 New Orleans and 2001, Design of Interactive Systems (DIS) and has been featured in the New York Times and BusinessWeek.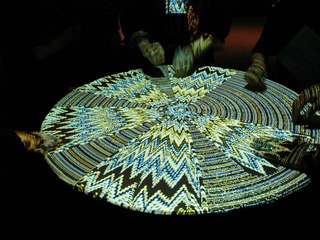 As a musical interactivist at Interval Research in Palo Alto, Blaine led a team of developers in the creation of a collaborative audiovisual instrument known as the Jam-O-Drum. By combining velocity sensitive input devices and computer graphics imagery into an integrated tabletop surface, six to twelve simultaneous players are able to participate in a collaborative approach to musical improvisation. The Jam-O-Drum was designed to support face-to-face audio and visual collaboration by playing on drum pads embedded in the surface to create rhythmical music and effect visual changes together using the community drum circle as a metaphor to guide the form and content of the interaction design.


The Jam-O-Drum is a permanent exhibit in the heart of Sound Lab at the Experience Music Project (EMP) in Seattle, Washington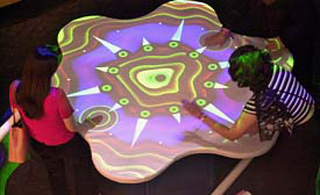 Other Jam-O-Drum prototypes included custom programs that used Bliss Paint images as backgrounds for interactive sprite-based custom software animations and music.
A call-and-response drumming experience is aided by cues for different players at different positions on the table.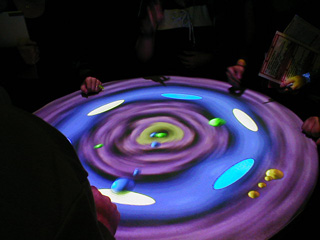 Another prototype features bouncing balls that are triggered by players and bounce in time with rhythmic music. Each player had their own sounds. It provided a highly gratifying way for novices to make harmonious and rhythmic music in a group.
For more information:
Greg Jalbert, greg@imaja.com
Tim Perkis, timper@artifact.com
Tina (Bean) Blaine, sabean2@earthlink.net
photo credit: Elaine Thompson


Bliss Paint is a trademark of Imaja.