Design sketches for The Rain Takes Off Her Clothes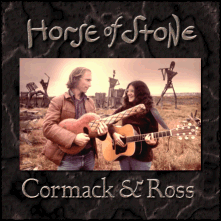 Recently, Cormack & Ross completed their long-unfinished work, Horse of Stone. The project was recorded in 1974 at His Master's Wheels and Graham Nash's Rudy Records in San Francisco, and in 1977 at Wooden Sound in Beverly Glen.
The tapes stayed in Barncard's garages until 1996, when they were remixed at A&M Studios in Los Angeles, and mastered in HDCD at Joe Gastwirt's Oceanview Digital.
Tom Ross, a protege of jazz guitarist Johnny Smith, has played and sung professionally since age 15. Inspired by the 18th century South Indian composer Muttuswamy Diksitar, he has written songs with world music influence for many years, nourished by three years' vocal study in India with Amir Khan and T. Viswanathan.
Jody Cormack's guitar expertise, together with her training in pop and world music, make her a unique talent. Also the disciple of T. Balasaraswati and T. Viswanathan, she is the foremost American exponent of South Indian vocal music, and has received critical acclaim both in the United States and India. She performs in concert with Viswanathan, and was lead vocalist in the dance troupe for Balasaraswati's daughter Lakshmi.
Cormack and Ross have studied other traditions extensively: Gambian kora, Shona mbira, Venezuelan harp and cuatro, Philippine kulingtan, Korean court music, Balinese gender-wayang, and Javanese gamelan.
Cormack & Ross have appeared on both coasts in concert and on television. Band performances include work with the band Shanti. Ross has collaborated with David Crosby in songwriting, and the group has elicited support and enthusiasm from Graham Nash and the Grateful Dead's Phil Lesh.
---
Design sketches for CD cover:

Design sketches for The Rain Takes Off Her Clothes

Design by Imaja