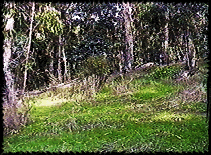 Albany, California, located in the East Bay near San Francisco has one large remaining area of natural habitat called Albany Hill, a local landmark. Here are a number of articles regarding the preservation of the hill, organized by the Friends of Albany Hill.
For information on Friends of Albany Hill, contact Carole Fitzgerald, cfitz68@hotmail.com
Support from City of Albany
In November 1996, local voters passed an advisory measure supporting a city council decision to establish a special tax assessment district which can provide tax funds to buy the non-town property on the hill so that it can be permanently preserved as a natural habitat. Measure R was designed by the Albany City Council to improve the quality of life in our community by funding three important open space projects. Here's what they are:
The Purchase of Undeveloped Scenic Woodlands on Albany Hill
Restoration of Albany's Creeks
Construction of New Youth Athletic Fields
Watercolor Exhibit
The Albany Arts Committee presented an exhibit of watercolors by Albany artist Carole Fitzgerald in 1996 at the Albany Community Center on Marin Avenue. Fitzgerald's beautiful watercolors of Albany Hill were a memorable show: a stunning portrait of monarch butterflies clustered on eucalyptus branches, a glowing path through old oak trees on the north side, and many more. An active member of the Friends of Albany Hill, Carole has provided guidance in savoring the beauty and protecting this cherished natural habitat.
Urban Forestry Workdays
This link provides an example of the kind of activities on Albany Hill to protect the natural habitat from invasive non-native species, and restoration of native plant species diversity.
Schedule: Friends of Albany Hill: Urban Forestry Workdays:1999-2000
[Environment] [Asphalt Strawberry] [ ]