Goldfish Sage Flower :
Greg Jalbert and Rob Lonsdale
Live improvisations by Greg Jalbert on keyboard synthesizers and Rob Lonsdale on guitar and drum. This comes from one of several sessions where Jalbert and Lonsdale were performing music to accompany a visual light projections by Glenn McKay, pioneer light artist from the 1960's. This recording was made in the mid-1990's in Sausalito, California.
CD: $16.95.
US Shipping: $2
International shipping: $5
Order online now!
Goldfish Sage Flower:
16.95 + $2 US shipping
Goldfish Sage Flower:
16.95 + $5 International shipping
Order online with MasterCard or VISA, or order with a check or money order to:
Imaja, 1244 Hearst Ave. #7, Berkeley, CA 94702 USA.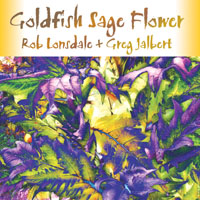 Goldfish Sage Flower
Greg Jalbert and Rob Lonsdale
CD: imaja GSF
---
More from Lonsdale and Jalbert: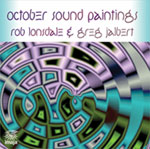 October Sound Paintings
Rob Lonsdale and Greg Jalbert
CD: imaja OSP