Imaja: Software for iPhone, iPad, iPod touch, Mac OS X, Mac OS 9, Video, Music and Art - imaja.com
Long Sun Work Day :
Imaja - Greg Jalbert
Music CD
Exuberant electronic/dance music by Imaja - Greg Jalbert on keyboard synthesizers and computer-based sequencer.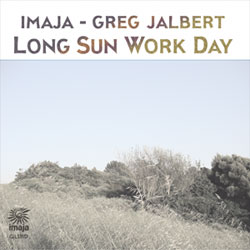 Long Sun Work Day
Imaja - Greg Jalbert
electronic/dance music
CD: imaja GJLSWD
CD: $16.95
In the late 1980's, Imaja - Greg Jalbert moved to California and got involved in a project to develop new music sequencing software with innovative graphic editing for MIDI synthesizers and keyboards. After a year and a half of long hours, coding of tens of thousands of lines of object-oriented Pascal software for Apple's Mac OS System 7, navigating the new social scenes of Silicon Valley in Milpitas, San Francisco, and the East Bay, this collection represents the first series of compositions to use the new software and some of that decades synthesizers, including the Korg M1, Casio FZ-1, Yamaha FB-01 and the Roland MT-32, all with custom programming or samples.
The music is highly influenced by the World Beat music scene of the area, and many exuberant nights dancing at the legendary Ashkenaz community music and dance hall to the music of Kotoja, The Nigerian Allstars, Zulu Spear, Peter Apfelbaum and the Heiroglyphics Ensemble and many more. Many of the compositions are arrangements for world beat ensemble.
A number of the compositions are explorations of the extraordinary capabilities of computer-based music sequencing and composition. The MIDI software used was significantly innovative for it's time and featured many powerful tools for orchestration and creation of nuance and special effects. The authors of the software were Greg Jalbert and Geoff Brown of Resonate, a Menlo Park-based company of the late 1980's. Thanks also to Jim Wake, Patria Brown and Ed Roseman and the many others who helped evolve that software. While it is now 'extinct', it made a great impression on many people. This recording is a document of that time.
Recorded by Ed Herrmann, San Francisco, California.
Song Samples (AAC/m4a):
US Shipping: $2
International shipping: $5
Order online now!

Long Sun Work Day:
16.95 + $2 US shipping
Long Sun Work Day:
16.95 + $5 International shipping
Order online with MasterCard, VISA, American Express, Discover, or order with a check or money order to:
Imaja, 1244 Hearst Ave. #7, Berkeley, CA 94702 USA
---


Guitar July
Imaja - Greg Jalbert



Goldfish Sage Flower
Rob Lonsdale and Greg Jalbert



October Sound Paintings
Rob Lonsdale and Greg Jalbert