October Sound Paintings :
Rob Lonsdale and Greg Jalbert
Live improvisations by Greg Jalbert on keyboard synthesizers and Rob Lonsdale on guitar synthesizer.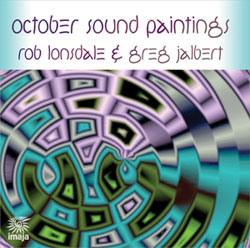 October Sound Paintings
Rob Lonsdale and Greg Jalbert
CD: imaja OSP
Lonsdale and Jalbert create a range of melodic and textural soundscapes. Original synthesizer programming by Jalbert gives this a unique sound, loopy rhythms, deep space journeys and gliding articulations, working with a Korg M1 and a Casio FZ-1, both with custom programming. Lonsdale layers his guitar lines over the top, working with guitar synthesizer and E-Bow. Recorded at Lonsdale Studios, Berkeley, California, October 1997.
CD: $16.95.
US Shipping: $2
International shipping: $5
Order online now!
October Sound Paintings:
16.95 + $2 US shipping
October Sound Paintings:
16.95 + $5 International shipping
Order online with MasterCard or VISA, or order with a check or money order to:
Imaja, 1244 Hearst Ave. #7, Berkeley, CA 94702 USA.
---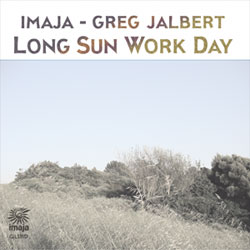 Long Sun Work Day
Imaja - Greg Jalbert



Goldfish Sage Flower
Rob Lonsdale and Greg Jalbert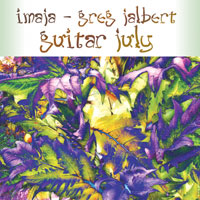 Guitar July
Imaja - Greg Jalbert