News Archive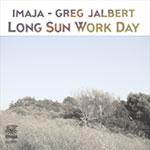 Long Sun Work Day::
New Music CD Release from Imaja - Greg Jalbert
Exuberant electronic/dance music by Imaja - Greg Jalbert on keyboard synthesizers and computer-based sequencer.
In the late 1980's, Imaja - Greg Jalbert moved to California and got involved in a project to develop new music sequencing software with innovative graphic editing for MIDI synthesizers and keyboards. After a year and a half of long hours, coding of tens of thousands of lines of object-oriented Pascal software for Apple's Mac OS System 7, navigating the new social scenes of Milpitas, San Francisco, and the East Bay, this collection represents the first series of compositions to use the new software and some of that decades synthesizers, including the Korg M1, Casio FZ-1, Yamaha FB-01 and the Roland MT-32, all with custom programming or samples.
Click here for music samples and to order.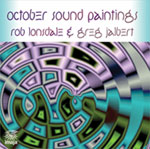 October Sound Paintings ::
New Music CD Release by Rob Lonsdale and Greg Jalbert
Live improvisations by Greg Jalbert on keyboard synthesizers and Rob Lonsdale on guitar synthesizer.
Lonsdale and Jalbert create a range of melodic and textural soundscapes. Original synthesizer programming by Jalbert gives this a unique sound, loopy rhythms, deep space journeys and gliding articulations, working with a Korg M1 and a Casio FZ-1, both with custom programming. Lonsdale layers his guitar lines over the top, working with guitar synthesizer and E-Bow. Recorded at Lonsdale Studios, Berkeley, California, October 1997.
Click here for music samples and to order.


Mailing Address Change for Imaja
Imaja's new mailing address is:
Imaja
1244 Hearst Ave. #7
Berkeley, CA 94702 USA
Imaja products can be ordered with check or money order via mail. For credit card orders, use our PayPal-based secure online ordering. Thank you for your support.


PicScan (version 2.1 for Mac OS X Universal (Intel-based and PPC)) is an interactive slideshow and thumbnail photo/image browser.

This update is now Built for Mac OS X Universal. PicScan includes auto-titles and improved keyboard responsiveness during slideshows, and image file renaming from the thumbnail view. Easy Full Screen mode and other keyboard commands. Version 1.3.9 is available for Mac OS 9. Click here for product info.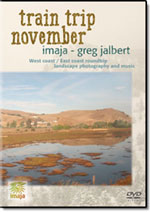 Train Trip November: a new DVD video of landscape photography and music by imaja - greg jalbert.
Greg Jalbert, artist and musician, presents this collection of photographs of nature and urban scenes from a train trip in November, a cross-country roundtrip.
Train Trip November is contemplative, a meditation on the geography of rural and urban areas, land use patterns, natural and man-made areas of transportation, agriculture, cities and small towns. Non-narrative, the scenery and music give one impressions of the joys and struggles of living in various ecosystems.
The music soundtrack is a mix of a variety of music compositions and improvisations, both newly created and taken from a wide range of time in the Imaja archives, and includes guitar improvisations in raga-style, electronic synthesizer textural works, and jazz improvisations.
Click here for preview video and to order.



Guitar July :: Music CD released by Imaja.
Imaja - Greg Jalbert journeys through guitar instrumentals and songs with influences from world music, jazz, folk, ambient, dance grooves and more. Acoustic guitar, electric guitar and synthesizers are layered together in rich textures.
Click here for music samples and to order.



Astral Blossom (version 2.1, Universal) Astral Blossom™ is a screen saver for Mac OS X that features a constantly

changing colorful display of luminous, geometric, kaleidoscopic, psychedelic, generative art. Multiple sets of mathematically generated 'flower petals' are rendered dynamically with beautiful transparent color combinations generated by Astral Blossom's internal color synthesizer. Version 2 features an Options sheet for custom preferences and periodic randomization. We're sure you'll find Astral Blossom lovely and relaxing, mezmerizing and even thrilling! It's easy to install and enjoy... Click here for product info.


Bliss Paint 2.4.1 has been released, a minor update to the live performance animation software for Mac OS 9 computers. The challenge/authorization code system was removed. Bliss Paint is still dazzling, built for the unique color palette animation technology in Mac OS 9 bootable Macintosh computers. Bliss Paint also runs in Classic under Mac OS X, although palette animation is not currently supported.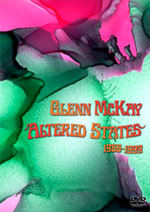 Altered States released on DVD Video
Glenn McKay's light art will mesmerize you with brilliant colors and music from four decades on this new DVD video release.
In four movements, the Altered States video starts with vintage rock from Jefferson Airplane, set to McKay's early 60's pulsating sensory overload style. The 70's evolve into a tweaky sound track by Knox Bronson, electronic culture mastermind, with scenes from McKay's world travels in a highly abstracted form. The 80's movement travels into pure geometric and color abstractions, with an uplifting electronic/acoustic soundtrack by Dean Evenson. McKay's 90's movement goes deep into fantastic liquid color landscapes with a dark, electronic music voyage crafted in collaboration with McKay by Greg Jalbert.
This video captures McKay's main installation exhibit at the San Francisco Museum of Modern Art, February-May 1999. Click here for product info.

Imaja Reminder 2.4.2 is a full featured calendar, address book and to do list program for Mac OS 9 with new toolbars, Export as HTML, highly customizable views with color coded labels, drag-and-drop, manual and automatic rescheduling, improved import and export, a window layout manager, and much more. Click here for product info.


Bliss Saver 2.3.4, an upgrade to the amazing screen saver and animation toy, is now available. This update simplifies the personalization of Bliss Saver upon installation, eliminating the challenge/authorization procedure. Bliss Saver is still dazzling, built for the unique video color cycling technology in Mac OS 9 bootable Macintosh computers.



Recent Paintings Exhibited by Imaja : The collection of conventional and digital paintings by Greg Jalbert (imaja) is now on exhibit and for sale at http://www.imaja.com/artwork/. Dramatic and colorful organic forms cascade through these abstract landscapes in acrylic, watercolor, and pen and ink.



ProtoFont 2.2. This new version has new features for quick browsing and spec sheets of your font library. Browse fonts anywhere on your system.
Order now!


Chronos, the multimedia history timeline toolkit for Mac OS, is now available from Imaja for a new reduced price of $49.95. Chronos features a graphic display of events and time spans in history with illustrations, pop-up comments, sorting, filtered views, sound and QuickTime linking, and many other features. Click here for product info.

Space Garden Meditations 2.3.2, an upgrade to the amazing screen saver and animation toy, is now available. Includes new keyboard commands and enhanced animations for your modern Macintosh. Includes support for Apple's DrawSprocket for nice fade-ins and fade-outs and automatic depth switching, and compability with Mac OS 9 Classic under OS X.

Imaja has added online ordering with a shopping cart to make orders easier. The PayPal payment system provides fast, secure ordering and accepts VISA, MasterCard, Discover and American Express credit cards.


Listen 2.5.3 Update Released. Listen, Imaja's music ear training software for Mac OS has been updated to include MIDI support for OMS (Open Music System). Click here for product info or an order form.



New Video: September. Imaja has released an anthology of works on VHS video. Greg Jalbert, artist and musician, presents this collection of his latest work, including video montage, computer- generated images, conventional paintings in acrylic, watercolor, gouache and ink, and photographs of nature. The music soundtrack is a mix of a variety of music compositions and improvisations taken from a wide range of time in the imaja archives, and includes rolling grooves, melodic explorations, electronic textural works, and chaotic percussive improvisations.

Brian Eno Exhibits Bliss Paint Animations at PartObject Gallery. Brian Eno, long known for his compositions using phase relationships in music, is currently exhibiting his Bliss Paint animations in combination with music compositions composed with Sseyo's Koan software at the PARTOBJECT GALLERY, 7 October – 29 November, 2000, at 103-C W. Weaver St. , Carrboro NC 27510, Tel: 919-933-2225. Click here for more information about Bliss Paint.


Bliss Paint 2 gets 4 1/2 mice in the July 1999 issue of MacWorld magazine! Click here the read the review.
"When you combine an almost endless array of animated brushes and effects with extensive color controls and programmability, you end up with a truly one-of-a-kind program. BlissPaint 2.0 just may be the best special-effects bargain on the block." -- David Biedney, MacWorld July 1999

Texplore 1.6.3, an update to the HTML text editor, a Fat version including support for 68K and PPC Macs.


Rainwater is a new multimedia art experience on CD-ROM, which combines computer-generated, photographic, and painted images in a mesmerizing slide show with intriguing electronic ambient sounds and music. Images and music by Greg Jalbert. Order now!


Press Release Library Imaja's new press release library provides current information and an archive of previous releases.


Resources links to manufacturers of video scan converters, video projectors, and Imaja software resellers.


Apple releases Sound Manager 3.2.1

This new version of the Sound Manager, part of System 7.5.3 or later, resolves problems with Imaja's Listen software when using the Macintosh sound synthesizer.

Bliss Saver reviewed in Psychedelic Illuminations

This review is the story of the reviewer being dazzled, and then everyone down the hall being dazzled. A really fun piece. These people really know what Bliss Saver is about!

Bliss Paint reviewed in Computer Music Journal

We are especially proud of this review, as CMJ is such as well respected journal. The review is technically very informative. It makes a mention of the idiosyncratic look of Bliss Paint animations, but we are well aware of that and continue to extend the innovative flexibility and power of Bliss Paint.

Haight Ashbury in the Sixties

Rocument has now finished the development of its new double CD-ROM on the music and culture of the sixties. David Biedny worked with the Bliss Paint software to create the psychedelic video sequence for the tune White Rabbit. Check out their web site at http://www.rockument.com.

Bliss Paint reviewed in MacUser

In an article on special effects software for video, Digital Dazzlers, Bliss Paint gets some great words: "Of all the animated special-effects programs we've seen for the Mac, Imaja's Bliss Paint takes the prize for the most "far out" effects." - David Biedny and Susan Janus

Bliss Paint in Mondo 2000

In an article on non-linear music software, Spiros Antonopoulos has this to say about Bliss Paint: "These modulators make this software a must for serious hypermedia trippers."

Video Projection Info in AV Video Magazine

There is a great article with listings of all the available video projectors in the July 1995 issue, from low-end to high-end. The projectors are categorized into graphics, data, and video types, and tables include list prices. The article also includes large video monitors and video walls.